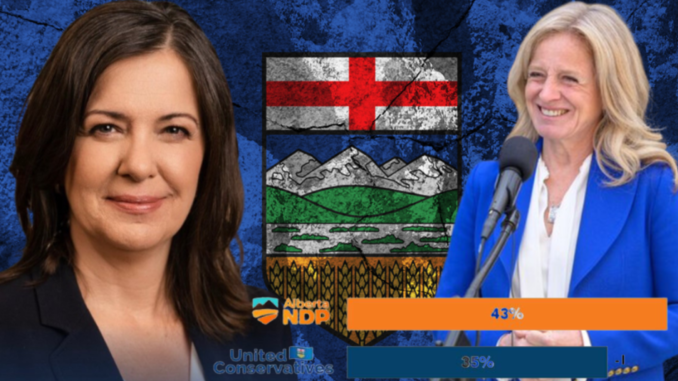 A new poll on Saturday is reporting the Alberta NDP and Rachel Notley have taken the lead in Alberta Election.
It appears the Alberta NDP gained seven points over the UCP heading into the May general election which will determine who becomes premier.
"Among all eligible voters, the NDP has gained seven points from our last survey before the election started and 43% of eligible voters say they would vote NDP followed by the UCP at 35%, the Alberta Party at 4% and other parties get 3%,"Abacus Data said.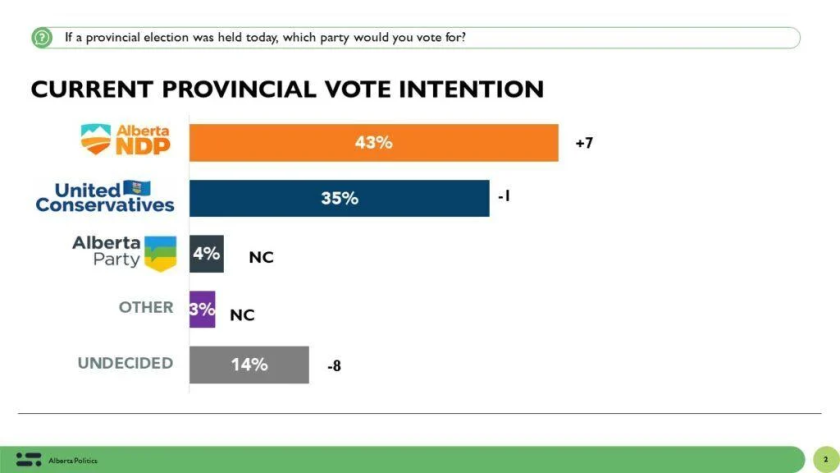 "This is the first time in our tracking that the NDP support is above 40% and is the largest lead we've measured for either party in the five waves of research we completed."
Abacus Data said 14% of voters say they are still undecided — down eight points since April.
"Among eligible voters likely to vote, the NDP lead is slightly smaller (five points) with the NDP at 46%, the UCP at 41%, and undecided at 9%," Abacus Data said.
"When we remove the undecided, the ballot among all decided voters is 51% for the NDP and 41% for the UCP — a five-point gain for the NDP and a five-point loss for the UCP since the start of the campaign."
Abacus Data said among decided likely voters in Alberta, the ballot is closer with the NDP ahead by six, 51% to 45%.
"In previous reports, we have profiled a group within the electorate who say they voted UCP in 2019 but today are either undecided or voting for another party. I call them "Reluctant UCPers". They still represent about 16% to 18% of the electorate but we have seen a noticeable shift in their vote intentions, Abacus Data said.
"Back in April, 51% of this group was undecided while 34% said they were going to vote NDP. Today, undecideds are down 17 points while half now say they are voting NDP. This helps explain the big rise in NDP support as those who are undecided have dropped."
Abacus Data said regionally, the NDP is ahead by over 30 in Edmonton, the UCP leads by eight outside of the two largest cities, while the NDP is slightly ahead in Calgary (42% to 36%).
"Note, we ask respondents to self-report where they live so it's likely these results represent Calgary and Edmonton proper and not the CMAs. It also means suburban and nearby communities around Calgary and Edmonton are included in the "other areas" region," Abacus Data said.
"The NDP has made gains across demographic groups but now has a 16-point lead among those under 45, is tied with the UCP among those over 45, leads by 12 among women, and is slightly ahead among men."
Abacus Data said on Saturday the NDP has a big, 43-point lead among those who self-identify as a member of a racialized community. 65% would vote NDP, 22% UCP, and 10% are undecided.
"Among those who don't self-identify as a member of a racialized group, the UCP leads by 3 (39% to 36%) with 16% undecided," Abacus Data said.
"Those with a negative impression of UCP leader Danielle Smith have increased over the past few weeks. Today 31% have a positive impression of her while 49% have a negative impression for a net score of -18. Negative impressions of Smith are up 6 points since the start of the campaign."
Abacus Data said for NDP leader Rachel Notley, 39% have a positive impression while 40% have a negative impression for a net score of -1.
"Views of Rachel Notley are largely unchanged," Abacus Data said.
"Also worth noting, negative impressions of Danielle Smith are also more intense and 36% of eligible voters have a very negative impression of Smith compared with 31% who feel the same way about Rachel Notley. It's clear both leaders are quite polarizing."
Abacus Data said "when we look at how party supporters feel about both leaders, that polarization becomes even more apparent."
Abacus Data said 80% of UCP supporters like Smith while only 2% like Notley.
"In contrast, 82% of NDP supporters like Notley but only 3% like Smith. The relationship between one's vote choice and impression of the party leader is almost perfectly correlated demonstrating just how important leader image is to the vote in Alberta right now," Abacus Data said.
The survey was conducted with 885 Alberta adults eligible to vote from May 9 to 12.
The margin of error for a comparable probability-based random sample of the same size is +/- 3.4%, 19 times out of 20.
This survey was paid for by Abacus Data Inc.
Arthur C. Green May 13, 2023