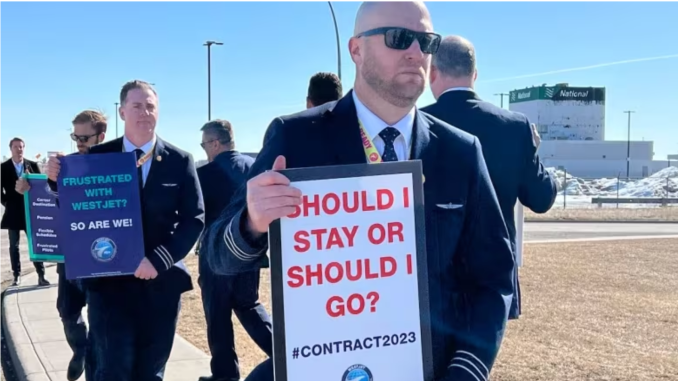 Social Sharing
In response, airline issues lockout notice
Omar Sherif · CBC News · Posted: May 15, 2023 8:54 PM MDT | Last Updated: 3 hours ago
The WestJet Group says it will lock out the airline's pilots after their union sent a 72-hour strike notice to the company and government Monday night, setting the stage for a work stoppage right before the May long weekend.
In a news release sent to CBC News, the Air Line Pilots Association (ALPA) said that as of 3 a.m. ET on May 19, the pilots plan to begin lawful job action, which could include grounding all aircraft and effectively shutting down operations.
The union represents both WestJet and Swoop pilots. The lockout notice applies to Swoop pilots as well.
The WestJet Group said a work stoppage could occur as early as Friday at 3 a.m. MT. In a release, WestJet said that issuing a lockout notice does not mean a work stoppage will occur.
However, the airline has begun preparations to operate a reduced schedule, proactively manage changes and cancellations and providing flexible change and cancel options for those people who want to change their plans.
"It is our responsibility to ensure the safety and complete control of our network at all times, to minimize the risk of stranding our guests, our crews and our aircraft," said WestJet CEO Alexis von Hoensbroech in the release.
"We sincerely regret the inconvenience and uncertainty this continues to cause for our guests."
About 1,850 WestJet pilots with the Air Line Pilots Association (ALPA) are poised to strike. Some of the issues they say still need to be resolved include pay, job security and scheduling.
"After nine months of negotiating, management still fails to understand today's labour market conditions, leading to a mass exodus of our pilots in search of better work opportunities," said Capt. Bernard Lewall, chair of the WestJet ALPA Master Executive Council in a release.
"More will follow if this agreement does not meet our pilots' needs."
Negotiations between WestJet and the pilots' union began in September. Last month, the pilots voted in favour of a strike mandate.
WATCH | WestJet pilots picket in Calgary:
WestJet pilots hold informational picket in Calgary as strike deadline looms
7 days ago
With a strike deadline looming, pilots with WestJet say they're still far apart in negotiations with the company. Members of the Air Line Pilots Association held an informational picket in Vancouver, Toronto and Calgary on May 8. The CBC's Colleen Underwood was there.
Von Hoensbroech said he was disappointed the pilots served a strike notice, saying that the company's offer would have made the pilots "by far the best paid in Canada."
In a post to Twitter on Monday night, he said he had personally joined the bargaining table and is committed to coming to a reasonable deal.
"As the union maintains unreasonable expectations we see no alternative then to lock them out as of Friday," von Hoensbroech wrote on Twitter.
Should flight delays or cancellations happen, impacted guests will be refunded or re accommodated as applicable, WestJet said.
ABOUT THE AUTHOR
Omar Sherif is a digital journalist with CBC Calgary. You can contact him at omar.sherif@cbc.ca