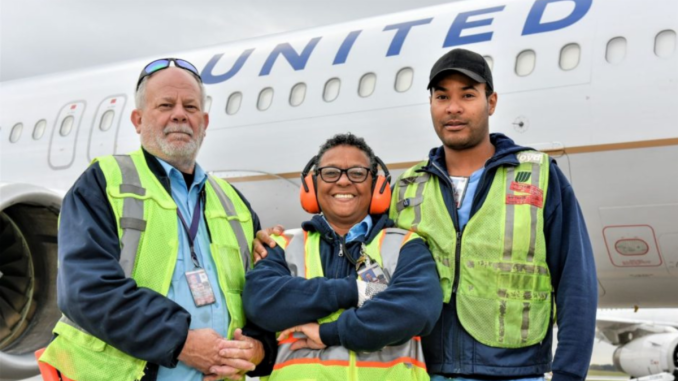 Approximately 29,000 United Airlines members in the IAM, North America's largest air transport labor union, have ratified labor agreements with the industry's best wages and stronger job protections.
Members ratified five contracts covering Fleet Service, Passenger Service, Storekeeper, Maintenance Instructors, and Fleet Technical Instructors and Related, and Maintenance Instructors.
Approximately 118 members in the Security Guard and Central Load Planners classifications have not ratified their contracts. The IAM will continue to work on next steps for these members.
Highlights of the ratified contracts include:
Industry-best wage rates.
The insourcing of five previously outsourced locations.
Protection of full-time employment and opportunities.
The permanent prohibition of outsourcing for 17 additional U.S. locations.
Increased lead and specialty premiums.
Extends system no lay-off protection to tens of thousands of more IAM members.
Early opener of next negotiations and a signing bonus.
"The IAM has once again set the bar for airline workers across the industry," said IAM Air Transport Territory General Vice President Richie Johnsen. "We continue to have success reaching agreements that secure our work and turn into airline jobs into family-sustaining careers."
"I'd like to thank every District Lodge 141 member who participated in the ratification vote to not only improve their lives, but also the lives of thousands of other airline workers in like classes and crafts," said IAM District 141 President and Directing General Chair Mike Klemm. "District Lodge 141 members have once again set the bar in the airline industry by demonstrating their solidarity and demanding justice on the job."
"Airline workers everywhere are seeing the power and strength of the IAM," said IAM Air Transport Territory Chief of Staff Edison Fraser. "These agreements at United show that our solidarity and strength from the shop floor to the bargaining table is paying off."
"The IAM Air Transport Territory worked seamlessly with District 141 and this tremendous negotiating committee," said IAM Air Transport Territory Airline Coordinator Tom Regan. "Together, we are working toward further prosperity for United workers, and all airline workers, in the future."