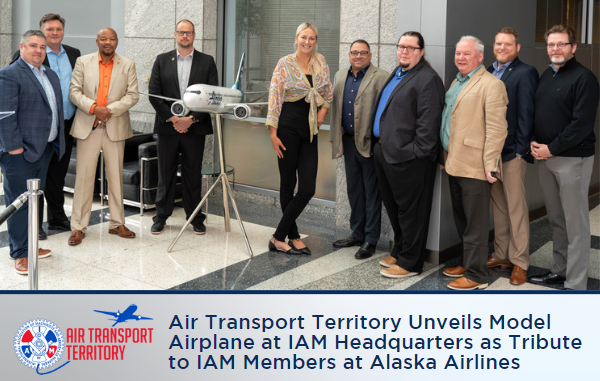 For over 20 years, an old model airplane was displayed outside the Air Transport Territory office at the IAM Headquarters in Upper Marlboro, MD. Today, a new model plane will take its place. The IAM unveiled a model of an Alaska Airlines airplane. The aircraft was donated by Alaska Airlines to serve as a tribute to IAM members who work at the carrier.
The unveiling of the model was hosted by IAM Air Transport Territory General Vice President Richie Johnsen and attended by IAM Headquarters General Vice President Brian Bryant, Midwest Territory General Vice President Steve Galloway, Eastern Territory General Vice President David Sullivan, Air Transport Territory Chief of Staff Edison Frasier, IAM District 142 President and Directing General Chair John Coveny, Alaska Airlines Vice President of Labor Relations Jenny Wetzel, Alaska Airlines Senior Vice President of Airport Operations and Customer Service Wayne Newton, and IAM members from District 142 and IAM Headquarters.
Johnsen spoke about the IAM's relationship with Alaska Airlines, which has led to a better working environment for IAM members.
"Our IAM District 142 members at Alaska Airlines are among some of the most dedicated airline workers in the airline industry," said Johnsen. "They are the ones who keep our skies safe and this airline flying and thriving. "Customer service at Alaska Airlines is top-notch due to the hard work of our membership. I want to thank Alaska Airlines for this small tribute to our members who work so hard daily. This model is a kind gesture."
The model is a replica of an Alaska Airlines Boeing 737 and will be displayed in the lobby of IAM headquarters.