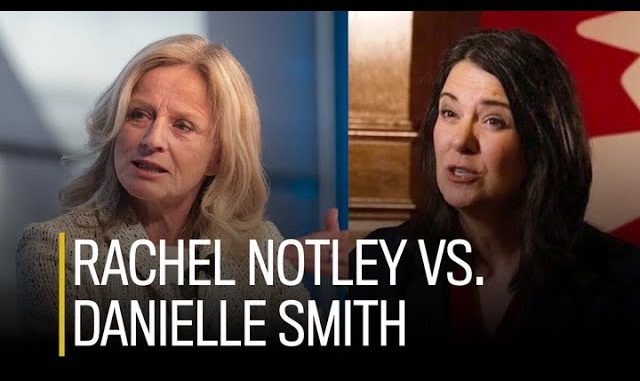 Political parties have been operating like it's voting season for months
Elise von Scheel · CBC News · Posted: May 01, 2023 5:00 AM MDT | Last Updated: 3 hours ago
227
comments
Monday morning is set to mark the official start of Alberta's provincial election, with premier and United Conservative Party Leader Danielle Smith poised to ask for the legislature to be dissolved and writs of election to be issued.

It's anticipated to be one of the most competitive Alberta elections ever.
Recent polls done by Abacus Data and Leger show a statistical tie in support between the United Conservatives and Rachel Notley's New Democrats ahead of voting day on May 29.

Candidates from about 10 parties are running in the province's 87 ridings as they seek the 44 seats needed to form a majority government.
Seat projections from public opinion research indicate only a couple of ridings could separate the party that forms government from the one in opposition.
Many of those close races are expected to unfold in Calgary — the city where those who used to traditionally vote for the old Progressive Conservative party are widely expected to be a main factor in the outcome of this election.
It may be the first day of the campaign but the parties have been knocking on doors, handing out election signs and making policy promises for weeks.
"It has sort of felt like nothing is moving in the polls despite tremendous activity on both sides," said Lisa Young, a political science professor at the University of Calgary.
"They're both throwing everything they have at this and it doesn't seem to be moving the polls and so then the question becomes what would move public opinion and it's really not clear."
Economy and health care
Recent polling indicates health care and economic issues are the top concerns of Albertans. Those hot topics are being reflected in the UCP and NDP campaigns, with both making pitches on those issues.
"I expect the first week to be where you'll see from the UCP some bigger announcements, sending those messages that you're safe with the UCP," said Evan Menzies, a senior strategist at Crestview Strategy and a former UCP staff member.
In addition to pushing economic stability, getting conservative voters motivated to cast their ballots will be key to UCP success, he added. So will maintaining a measured tone and steering the campaign toward the middle of the political spectrum, Menzies said.
"Boring can win this campaign for them. If they get involved in contentious debates, if they propose policies that might create too much of a divisive wedge, that's a net negative for them."
CBC News asked to speak to a UCP campaign adviser, but was told no one was available.
The NDP's strategy will push health care and trustworthiness.
"We know that public health care and the ability to access family medicine without paying for it is on the ballot. Cost of living and the pressures that families are dealing with every day are on the ballot. And a vision for Alberta's future are all on the ballot," said Cheryl Oates, a senior adviser with the NDP campaign.

"The campaign is really, really, really going to matter. And although we see those numbers still holding relatively tight, there is a ton of momentum on the ground already."
Bring it to the battleground
Political watchers expect the NDP to perform well in Edmonton and the surrounding "doughnut" area, which represents 20 seats. The UCP, meanwhile, is anticipating a strong showing outside the major cities, which represents 41 seats.
Calgary and its 26 remaining seats are expected to be the frontline in this political battle of Alberta.

Smith and Notley are both launching their campaigns from Calgary.
"I think we're going to see two parties that have already been campaigning for some time, but the intensity of the campaign is going to increase and we're going to see the two parties really going after each other even harder than they have," Young said.
It's a unique election, not just because of its competitiveness, but because both major party leaders are running to return to the premier's office.
Smith has been in that role since October and the NDP's Notley held the office from 2015 to 2019. It's a rare situation in Canadian politics — and so is the fact both major parties are led by women.

Parties can nominate candidates up to May 11. Both the UCP and NDP are running full slates. As of Friday, the Green Party has 31 candidates, 18 for the Alberta Party, 11 for the Liberals and seven for the Independence Party.

Advance voting is open from May 23-27. Elections Alberta will report the full official results of the election on June 8.
CBC's Journalistic Standards and Practices|About CBC News
Corrections and clarifications|Submit a news tip|Report error