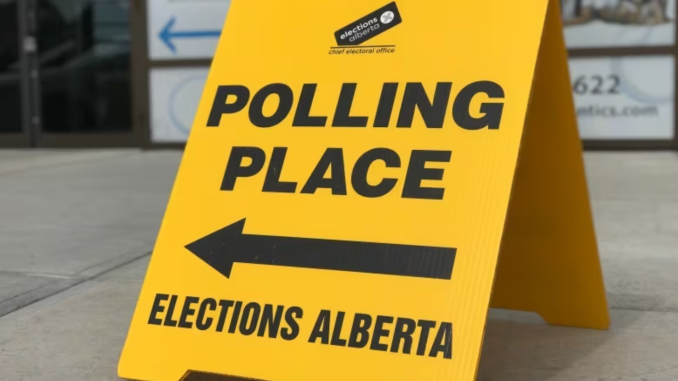 Elections Alberta says advance polls are the 'best option' for evacuees
Taylor Lambert · CBC News · Posted: May 23, 2023 5:00 AM MDT | Last Updated: 3 hours ago
Advance voting opens Tuesday for the provincial election but as wildfires continue to chase thousands from their homes, many may not have casting a ballot top of mind.
Still, as the situation continues to change, Elections Alberta says it is ensuring that all Albertans are able to cast a ballot.
Required documentation
All voters have a designated polling place for Election Day based on their home address.
But during the advance-voting period — which runs Tuesday through Saturday — anyone who is eligible to vote can do so at any advance polling place in the province. All they need to do is prove their legal name and address with documentation like a driver's license or utility bill.
While bills are not something you might grab in a rush to evacuate your home, online versions are also acceptable.
Even if someone doesn't have the necessary documentation, they can still vote if someone who lives in their electoral district vouches for them — as long as that person has identification themselves.
"For people who have been displaced, [advance voting] is likely to be the best option for them to be able to cast their ballots," Robyn Bell, a spokesperson for Elections Alberta. said in an interview.
"We are working with affected communities to set up alternative voting options, and that includes things like mobile voting stations in evacuation centres to be able to further support evacuees and firefighters."
Postponing not a simple decision
Some evacuees, including civic leaders of displaced communities, have raised the question of postponing the election, given the number of evacuees and firefighters away from their homes. But it's more complicated than it may seem.
Prior to a 2018 amendment to the Elections Act, Alberta had no legal mechanism to postpone the election process.
Now, voting day can be postponed, but it's not as simple as making a decision to do so.
The process set out by legislation requires the chief electoral officer to go before a judge and make a case for why a postponement is warranted.
"For an application to be approved, we have to show that we are not able to offer voting services in that area," Bell said.
"So we'll have to show that we have taken steps to offer voting services and those are no longer feasible and that would justify an application to the courts."
In other words, according to Elections Alberta, as long alternative voting options can be reasonably provided to evacuees, a postponement is unlikely to be approved by a judge.
What's more, there is no mechanism in the law that allows for simply postponing voting day across the province: there are 87 electoral districts in Alberta, and each would require a separate judicial application to demonstrate that alternative voting methods are not possible.
No applications being considered
At the moment, Bell says Elections Alberta is not considering any such applications for a delay, adding that the wildfire situation can change rapidly and there is no deadline for when that decision could be made.
"If evacuations were ordered on the evening of May 28th, it could be fair to say that it's too short notice to provide other voting services to those people who have been affected and we may need to discontinue voting in those areas," she said.
"And so then a new election date would be set within six months and it would be similar to a by-election."
The latest information on how and where to vote can be found on Elections Alberta's website.
ABOUT THE AUTHOR
Journalist
Taylor Lambert is the producer of enterprise and investigative journalism at CBC Edmonton.